In the United States, arrest records play a significant role in immigration proceedings. This is certainly relevant in Los Angeles County, where a massive immigrant population lives. Immigration authorities use arrest records, also known as rap sheets, to determine whether a person is admissible to the United States or eligible for certain forms of relief, such as asylum or cancellation of removal.
When a person is arrested by the Los Angeles County Sheriff's Department (LASD), their fingerprints and personally identifiable information are sent to the Federal Bureau of Investigation (FBI) and the Department of Homeland Security (DHS). This data is then entered into various databases used by immigration authorities to evaluate a person's immigration status and criminal record.
Depending on the type of immigration relief being pursued, a person's arrest record may be a key factor in determining their eligibility. This can include prior convictions, active warrants, and even arrests without convictions. If a person is placed in removal proceedings, their arrest record will also be used as evidence.
For example, those seeking asylum in the United States must prove a well-founded fear of being persecuted in their country of origin. A criminal conviction or arrest record in the United States can be used as proof that a person is not at risk of persecution in their home country and is ineligible for asylum.
Individuals seeking cancellation of removal must demonstrate that they have been physically present in the United States for ten years, have good moral and ethical character, and that their removal would cause exceptional and extremely unusual hardship to a spouse, parent, or child who is a U.S. citizen or legal permanent resident. A person's arrest record may be used as evidence that they lack good moral character and are, therefore, ineligible for relief.
A person's immigration status is not determined solely by their arrest record. However, it can be used as evidence in immigration proceedings and potentially significantly affect the case's outcome. Counseling with an immigration attorney who can explain your rights and options is the most effective way to protect yourself from the adverse effects of an arrest record in immigration proceedings.
Search for immigration records
Immigration records also referred to as alien files or A-files, contain information about noncitizens who have interacted with United States Citizenship and Immigration Services (USCIS) or other immigration-related agencies. These records may contain information about a person's immigration history, such as their application for a visa, green card, or citizenship, as well as any enforcement actions taken against them, such as deportation proceedings.
USCIS, a Department of Homeland Security division, is responsible for immigration records (DHS). These records are used to determine a person's immigration status and eligibility for various forms of relief, including asylum and cancellation of removal. They also play a role in naturalization proceedings and immigration law enforcement.
Immigration records are accessible to the public, but the Privacy Act of 1974 restricts access to them. This means that the records may only be disclosed to the individual named in the record, their legal representative, or a government agency with a legal need for the information.
An individual must submit a Freedom of Information Act (FOIA) request to the USCIS to obtain an immigration record. The request must include the individual's full name, date of birth, and alien registration number (if known). The request should also include any specific information requested, such as a copy of a particular document or details about a particular event.
The process of obtaining an immigration record can be time-consuming, and it's not guaranteed that the USCIS will release all of the requested information. In addition, the USCIS may charge a fee for searching and copying the records, and it may take weeks or even months to receive a response or a comment to a Freedom of Information Act request.
If the individual is in removal proceedings and the immigration court has jurisdiction over the case, the individual's immigration records may be obtained from the Executive Office for Immigration Review (EOIR), which is the administrative agency of the Department of Justice that oversees immigration court proceedings.
Consult with an immigration attorney who can help you understand the process of obtaining immigration records, as well as the information that may be contained in the record and how it may affect your immigration case.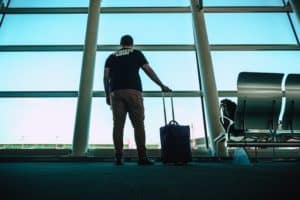 How many foreigners reside in Los Angeles County?
As of 2021, Los Angeles County is home to a large and diverse immigrant population. Migration Policy Institute (MPI) estimates that there were approximately 3,3 million immigrants living in Los Angeles County in 2019, representing approximately 44% of the country's total population. This makes Los Angeles County one of the counties in the United States with the highest immigrant population.
El Salvador, the Philippines, Guatemala, and Honduras are the following most common countries of origin for immigrants in Los Angeles County, after Mexico. The county also has a considerable population of immigrants from China, Korea, Vietnam, and Iran, among many others
The Importance of Legal Counsel in Immigration Cases Involving Arrest Records
When facing immigration proceedings, individuals need to comprehend the potential effects of their arrest record on their case and retain legal counsel. An attorney can provide guidance and support throughout the process, assisting individuals in understanding the complexities of immigration law and navigating the frequently challenging path to obtaining the required records.
Immigration proceedings can be complex and overwhelming, with various possible outcomes depending on a person's criminal record and other factors. A criminal conviction, for example, may render a person ineligible for certain forms of relief or result in deportation. In these situations, an attorney can assist a client in understanding the potential repercussions of their arrest record and in building a strong case for relief or naturalization.
A lawyer can also assist in obtaining the required records, such as arrest records from Los Angeles County, which are frequently required as evidence in immigration proceedings. This can include navigating the process for submitting a request, understanding the associated fees, and ensuring that the records are received promptly.
A lawyer can also represent clients in court, negotiate with government officials and immigration agencies, and assist clients in comprehending immigration laws and regulations. They can assist clients in completing and submitting immigration forms and applications, gather and prepare the necessary documentation, and provide guidance regarding immigration policies, regulations, and procedures.
FAQ
Q: What is the correlation between arrest records from Los Angeles County and immigration proceedings?
A: Arrest records can play an important role in immigration proceedings since they can be used as evidence of criminal activity and result in a person's inadmissibility or deportation.
Q: How do I obtain my arrest record from LA County?
A: You can obtain your Los Angeles County arrest record by submitting a request through the Los Angeles County Sheriff's Department's website or by visiting the county courthouse and requesting the record in person.
Q: What happens if my arrest record holds errors?
A: If you believe that your arrest record contains errors, you should seek the assistance of an attorney who can assist in correcting any inaccuracies and protecting your rights.
Q: How can a lawyer assist me in my immigration case if I have a criminal record?
A: An attorney can help you understand the effects of your arrest record on your immigration case, advise you on your options, and assist you in obtaining the required records. Additionally, they can assist you in presenting proof of rehabilitation and perhaps other mitigating factors to the immigration court.
Q: Can a criminal record prevent me from entering the United States?
A: Yes, an arrest record might be used as evidence of criminal behavior and result in a person being deemed inadmissible and denied entry into the United States. If you have an arrest record, you should consult with an attorney before traveling to the United States.